Ordering Christmas Gifts: Ensuring Timely Delivery and Festive Cheer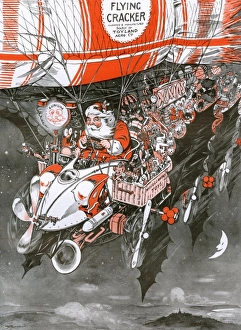 At Media Storehouse, during the months of November and December our production is buzzing with activity as we create custom-made products to spread the festive cheer and we want to ensure your Christmas gifts reach their destination in time. While we are committed to shipping Christmas orders until the 22nd of December, it's crucial to note that items ordered after our last ordering dates may find their way under the tree a little later than expected. So, whether you're planning to send Christmas gifts to family, friends, or colleagues, either to your address or theirs, we strongly recommend ordering as early as possible.
Our dedicated production team will be putting in extra hours, working diligently to print, package, and dispatch your Christmas gifts promptly. Many of our products have a last ordering date set in the second or third week of December. As all our products are custom-made, this time is essential to make each item with care. Most items are dispatched within 2-3 working days after an order is confirmed. However, the processing time may vary - some orders might ship out quicker, while others might take a bit longer. It's crucial to consider this when placing your order. Our standard Photo Prints usually ship out the fastest but when selecting products, be sure to check the estimated dispatch date.
To ensure a stress-free shopping experience and guarantee a Jolly Holiday, we advise you to start your Christmas shopping early. While we can't provide specific delivery dates, we can promise you this: our entire team is dedicated to working tirelessly, ensuring your order reaches you in time for Christmas Day.
Don't let the hustle and bustle of the holiday season catch you off guard. Order your Christmas gifts early and secure a joyful, timely delivery.
FAQs: Your Christmas Gifting Questions Answered
1. What is the last ordering date for Christmas gifts?
Our last ordering date varies for different products. Photo Prints usually ship the fastest but please check the published shipping days for each product.
2. Can I track my Christmas order?
Yes, you will receive a tracking number, or postal reference number, once your order is dispatched. You can use this to monitor your package's journey to your doorstep.
3. Can I change my shipping address after placing the order?
Unfortunately, once the order is confirmed, generally we can't modify the shipping address. Please double-check your details before completing your purchase.
4. Do you offer gift vouchers?
Yes it's easy to select and purchase Christmas vouchers with just a few quick clicks. Recipients can use them to browse and choose a gift from our vast collections. You can learn more and purchse them here
5. What if my Christmas gift arrives late?. What if my Christmas gift arrives late?
You can find out more our Returns Policy here, or contact our customer support, and we will assist you promptly.
You can also find more information on our FAQ Page.
✨ Make this holiday season truly magical - browse collections ✨