Buy Metal Prints , the modern Wall Art Phenomenon
What is a Metal Print?

Metal Prints from Media Storehouse are a modern way to display your favorite photos. The process involves infusing dyes directly into specially coated aluminum sheets, creating a vibrant and durable print. The colors are incredibly vivid and the luminescence is breathtaking. The prints are waterproof and scratch-resistant, making them perfect for outdoor display. The prints are also lightweight and easy to hang, making them a great choice for any home or office. The prints come in a variety of sizes and finishes, so you can find the perfect look for your space. Metal prints are a great way to show off your favorite photos in a modern and stylish way.
Before you Buy your Metal Print, check out our Frequently Asked Questions for everything you need to know
Metal Prints are a modern Wall Art phenomenon that has to be seen to be believed. Being new you may have questions that need answers about what they are, how they are made, and the best way to look after them. Nothing can beat the unrivaled brilliance and color reproduction of an aluminum photo print to really make your favorite photos stand out. They are the latest advance in hanging photos and displaying fine art works.
Metal prints are a unique and eye-catching way to display pictures. They are created by infusing dyes directly into specially coated aluminum sheets and the result is a vibrant, high-definition image with a glossy finish that is sure to draw attention. Durable, waterproof, and scratch-resistant, making them ideal for both indoor and outdoor display. They are also lightweight and easy to hang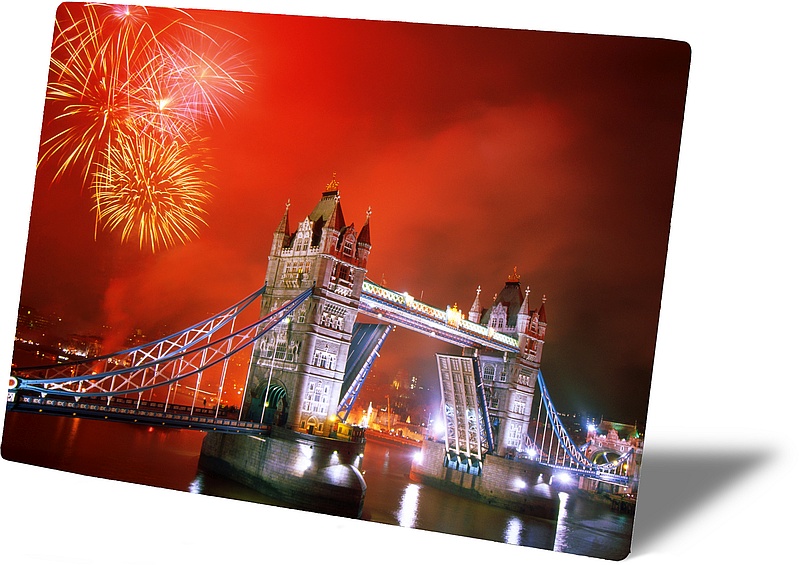 The ultra glossy finish is enhanced with vibrant colors obtained by printing directly onto high quality lightweight aluminum, specially coated with a clear protective covering. The finished print can appear to float on the wall by the use of "hidden" soft pad spacers.
Popular brands, including Di-Bond, can offer extra depth and strength along with reduced hanging weight by using a plastic core sandwiched between two thin aluminum sheets.
Vibrant Modern Wall Art
Ultra Glossy Finish
Lightweight Aluminum
Clear Protective Coating
Floating Effect
Similar Price to Framed Prints
Ready to Hang
Tough and Long Lasting
Archival Quality Images
Novel Gift Idea
Does not Warp or Crease
Easy to Wipe Clean
With Framed Prints remaining an excellent traditional choice, for a more modern and sleek look nothing can beat the high gloss color brilliance of photos on metal. The choice of which to use largely depends on the aesthetic and mood of the installation location.
Media Storehouse works with top image libraries and professional photographers to offer quality images that can be quickly and professionally printed onto custom prints at one of our Photo Labs around the World. Please feel free to browse our collections or use our search tool to find your image.
How much do metal prints cost?
They are typically similarly priced to prints that have been traditionally mounted and framed. Supplied "ready to hang" the soft pads on the rear help to protect the wall and give a floating effect, avoiding the weight of more traditional framing.
Whilst cheaper options, such as Canvas and Posters, can offer acceptable alternatives, nothing matches the sheer brilliance and modern look of a good quality Metallic Print. Canvas materials can appear dull by comparison, whilst thinner poster paper can be more susceptible to creasing over time. Register with Media Storehouse to learn about our Special Offers and Free Shipping in selected areas.
How long do metal prints last?
As each image is printed directly onto the metal and protected with a transparent layer they should last for hundreds of years. Under normal indoor conditions they should not fade for over 200 years and outlast traditional Archival Quality Photographic Paper. Even placed outside in direct sunlight they should still last for many years without fading. Combined with their inherent strength they can easily keep their pristine look far longer than most print mediums.
Do metal prints look good?
Yes. The long lasting vivid color brilliance can bring a print to life. Your image is printed directly onto an aluminum panel and covered with a clear safety coating. The finished print quality has a floating effect due to hidden soft pads on the rear. The end result is a modern vibrant alternative to framed and canvas.
Are metal prints better than canvas?
Both Metal and Canvas Prints can be hung straight away without the need for framing. If looking for vibrant and modern then these are the premium choice, with unframed Canvas being a cheaper alternative.
They can suit a bright and airy modern environment. Alternatively, the cloth material used in Canvas naturally tends toward being less vibrant colors that can be better in more traditional darker rooms. It really depends on your budget and where you want to display them.
Are metal prints waterproof?
They are one of the most waterproof products. Water resistant, to prolong their life they should be sheltered from the rain and other weather elements since the Aluminum layers can eventually corrode and rust over time. If splashed with water they can easily be dried without affecting the image, which is protected by a clear layer. If they get a little wet in transit simply dry them off to help keep corrosion at bay.
Do metal prints fade?
Fading far less than other print formats, photo print on aluminum can even outlast most archival quality photo papers. Under normal conditions, even near a window, they should retain their brilliance for hundreds of years. However, as with any photo, it is best to keep them out of prolonged direct sunlight. Aluminum Prints are fine to keep outside so long as they are sheltered from the worst of the weather, especially rain and direct sunlight.
Are metal prints heavy?
They are much lighter than framed prints and more comparable to Canvas. Modern Di-Bond is even lighter as they feature a plastic core sandwiched between two plates of aluminum. This gives a pleasing 3D effect which is half the weight of an equivalent pure aluminum print.
Do you frame metal prints?
They are supplied ready to hang and do not need framing. Whilst it is possible to purchase Framed Metal Prints from some suppliers, you can also use a standard Frame after discarding its original glazing and backing card.
Can metal prints go outside?
Yes, the protective clear coverings and avoidance of paper on Aluminum Photos are ideal for mounting outside. They should be placed in a sheltered position away from the worst of the weather. Unlike Framed and Canvas prints, which are more susceptible to damp, the image is embossed directly onto the metal substrate and encased in clear protective coatings. Whilst they can last for many years outside, as with most artwork images, they should be carefully positioned to avoid prolonged exposure to strong direct sunlight and rain.
How do you hang metal prints?
Hidden from view, the rear of the print typically has a single hanging bracket with soft pads to help protect the wall. The hanging systems, not visible when mounted, can help give a pleasing floating effect. Being far lighter in weight than comparable framed photos, they can be easily hung on most walls with a simple single fixing.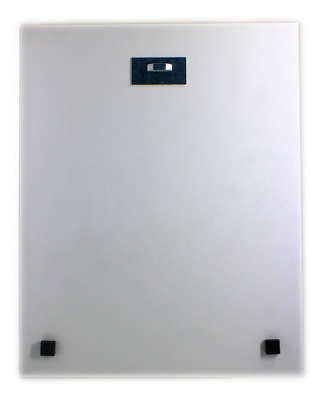 How do you print pictures on metal?
The images are digitally UV printed directly onto a durable and lightweight aluminum composite sheet which is then encased in a protective laminated finish. Typically attached to the rear is a single hanging bracket plus soft pads to give a pleasing floating effect.
Do photos fade in sunlight?
Metal Prints are one of the strongest and long-lasting print mediums which, even if exposed to harsh weather or direct sunlight, is decompose proof and resistant to fading. Even in direct sunlight they should resist fading for over 5 years outside and over 10 years inside, which is far superior to more traditional print mediums.
Are metal prints archival?
Yes. They have excellent archival properties due to their long lasting color brilliance and resistance to warping or creasing. They can last for generations when kept out of direct sunlight. Resistant to degradation by UV light and ozone exposure, the waterproof and ultra-hard scratch-resistant coating provides excellent protection against moisture and surface damage.
How do you clean metal prints?
The acrylic protective coating that helps protect from damage and so are very easy to clean. Simply wipe and dust occasionally with a soft, dry, microfiber cloth. More stubborn marks can be removed with a wet cloth, only use clean water and avoid chemicals or detergents.
How can I print Metal Prints at home with an Inkjet Printer?
It is possible to print on Aluminum at home with a color Inkjet Printer. Whilst not as vibrant or resilient as a professionally finished item, you can print onto bare metal at home using a standard Inkjet Printer.
Take a roll of Aluminum Flashing that's less than 0.25 mm thick and cut to size with tin snips. Prepare by sanding with 600-grit sandpaper to remove the protective top coat, best done outside due to dust, and clean with grease cleaner (Magic Eraser or dish detergent is fine). Finally cover the surface of the flashing with an inkjet pre-coat (available at most art stores).
Attach the Aluminum to a piece of paper that fits in your printer and, before printing, perform test runs with normal paper to make sure you understand the paper positioning and orientation. When ready print onto the pre-coated side of the aluminum, just as with the normal paper, and let the ink dry.
How can I print Metal Prints at home with a Laser Printer?
It is possible to transfer a Laser Printer print onto Aluminum at home. Whilst not as vibrant or resilient as a professionally finished item, it is possible to transfer a print from a Laser Printer onto bare metal at home.
First, print the image onto normal paper with your toner based Laser Printer (color or black and white).
Taking your piece of sheet metal (Aluminum, Copper, Brass, etc) use a pair of tin snips to cut to the desired size. Prepare by sanding with 600-grit sandpaper to remove any protective coating, best done outside due to dust, and clean with a grease cleaner (Magic Eraser or dish detergent is fine).
Brush a thin layer of Acrylic Polyurethane (from your local hardware store) over the metal surface and press your print face down onto the wet piece of sheet metal, working out from the center. After the acrylic polyurethane has dried, rub the back with a water-soaked paper towel until all of the paper is gone and you're left with your design printed on the sheet metal.
Where can I buy a Metal Print?
Media Storehouse offers a range of professional art for quick dispatch from labs in the UK, USA and Australia. You can search Media Storehouse for the image of your choice using the Find box at the top of this page, or peruse our comprehensive Collections.
Click here to browse our Image Collections for Metal Prints
About the author: Derek Moore has been with Media Storehouse since 2003 and is responsible for all technical aspects of the service including design, development, operations and support. Having worked alongside Image Rights Holders and Photo Labs for nearly 20 years, Derek has built up many years of expertise in the field of Print Sales and Media Management Services. With qualifications in Photography, Computing and Electronics Design, Derek has worked on a range of leading technology systems since the late 1970's. These include Radio Systems, Electronic Point of Sale, Factory Monitoring, the UK's first consumer Online Banking service, the UK's first High-Street ISP, and leading online solutions for accepting cards over the internet. He is also the one who picks up the phone when you ring Media Storehouse.