Media Storehouse Fine Art, Photographic and Poster Prints: A Guide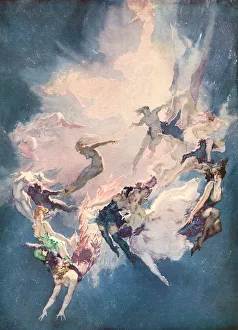 Fine art prints, photographic prints, and poster prints are all different types of prints that can be used to decorate your home or corporate space. Each type of print has its own unique characteristics suited to personal tastes, different decor styles and budget.
Made by professionals and printed with high-quality inks on quality paper we take great care in the production process to ensure that fine art, photographic and poster prints are an accurate reproduction of the original artworks.
What is a Fine Art Print?
A fine art print is a high-quality reproduction of an original artwork. Fine art prints will last for many years without fading or deteriorating as they are made using archival inks and textured papers, which also adds to the overall pleasure of the artwork.
What is a Photographic Print?
A photographic print is high-quality reproduction of an artwork or photograph that has been created using a digital printing process, which involves taking a digital image file and printing it onto high-quality photographic paper using specialised printers and inks.
What is a Poster Print?
A poster print is a larger copy of an artwork made to fit onto paper several times larger than the paper used for regular art prints. The printing process makes them a more affordable option for larger format prints.
About Media Storehouse Fine Art Prints
Available in a range of print sizes (17x15" (45x38cm) to 33x46" (84x118 cm)), fine art prints take on the appearance of a watercolour, with the texture of the paper helping to add to the overall pleasure of the artwork which has a more matt appearance. Due to the way the ink sits on the paper, they appear to have slightly less 'sharpness' than a photographic print, but that is the fine art print's charm. This high-quality photographic printing technique is achieved with a combination of state-of-the-art inkjet heads, placing the finest micro droplets of ink onto the textured fine art, archival grade papers, for colour or black & white images or artwork.
About Media Storehouse Photographic Prints
With advancements in digital technology, photographic prints have become an increasingly popular choice for photographers and art enthusiasts alike. Available in a range of print sizes (7x5" (18x13cm) to 40x30" (102x76cm)) and finishes (luster, gloss & matte), printed on archival quality photographic paper (paper coated with light-sensitive chemicals), they are produced using professional-grade printing equipment ensuring the image sharpness, colour and tone accuracy is exceptional.
About Media Storehouse Poster Prints
Available in standard posters sizes (A0, A1, A2, A3 & A4), Media Storehouse poster prints are superior because they are produced on premium photographic paper (170-270 gsm), which is thicker and more durable compared to the regular paper usually associated with poster prints, so they will last longer.
Popular Methods of Displaying Media Storehouse Prints
In frames: The most common and traditional method of displaying art prints on the walls of homes, offices, or galleries for a personalised look. They can be arranged in a variety of ways to create a visually appealing and cohesive display.
On shelves or mantels: Small to medium size prints can be displayed by leaning them against a wall or using easel stands. This is an excellent option for those who want to change up their display on a regular basis or display their prints alongside other decorative items.
On walls: Prints can be hung on the walls of homes, offices, dorm rooms, or any other space where wall decor is desired. They can be framed or simply affixed to the wall using poster tape or thumbtacks.
Which Print is Right for You?
If you want a museum-quality print, the fine print price will be justified in the long run. Photographic prints that are versatile and functional are the more popular option for framing. Posters, on the other hand, have grown in popularity over the years, so if you need a quick, easy, and affordable large format print for home decor or a corporate space, posters may be the way to go.
Make, Hang and Love Art!
Elevate the look of your space with beautiful Media Storehouse wall art. Each type of print has its own unique characteristics suited to personal tastes, different decor styles and budget.
Choose from a huge collection of designs and create your custom made art print to brighten up your space or give a loved one their favourite painting as a print to really make their day.
Media Storehouse has all you are looking for and more!